---
---
Vegan Camembert
For years I heard about people making their own vegan cheese varieties. For pizza and cooking I was happy enough with Wilmersburger and unsweetened vegan yogurt, but when white mold cheeses like Happy White became available at Maran Vegan and other places I was delighted and, considering the price and limited availability, quite motivated to make my own vegan cheese.
Last year stood in the sign of hard cheese production (daily saline bathes), with a similar basic recipe but without the white mold. Eventually that phase passed, my fridge still features a few loaves from that time. They are nice but more like parmesan cheese (very hard) and less like Appenzeller or Bergkäse. I like moldy cheese even better, and the more microorganisms the more fun ;-)
It all begins with Okara from my soy milk production. After adding lactic acid cultures this mixture ferments for a day in the open, then for a few days in the fridge. I assume you can also buy cultures, I made mine more or less after miyoko Schinner's recipe germinating seeds, fermenting in water for a few days, filtrating off the seeds for making bread and using the rest as "rejuvelac" for the cheese.
To kill unwanted germs I usually heat the mexiture in the microwave for about 5 minutes. Of course it has to cool down so the penicillium spores don't suffer the same fate.
In the meantime the cashews are ground, preferably with a dash of olive oil. For this I recommend a Moulinette (nut grinder), probably an ultra mixer would also work. The downside of the special nut grinder is, that it still takes an inordinate amount of time since you can't use it for more than 9 seconds and then have to wait a few minutes until it is operable again, otherwise it might burn (and it does smell even before). This will take some time. The end result should look somewhat like almond paste (marzipan), which explains the original motivation for the nut grinder (why is there no commercially available xylitol marzipan?)
When the cashew paste is done it is kneaded with the cooled down okara, salt and olive oil to taste. This can partly be done in the grinder, probably even better in the case of an ultra mixer. Then a loaf is formed and inoculated with the fungus spores (penicillium candidum/camemberti) by sprinkling, spraying, or rubbing.
The raw cheese loaf is loosely packed in paper and regularly turned around, preferably daily. There are a few problems I haven't fully solved yet:
Ripening is temperature dependent. As far as I know 13 - 15 ° C would be optimal (comments?), as a compromise I leave it out of the fridge for a day and then store it there. During the warmer seasons that is definitely the safer place, not only for temperature but also entomological reasons
Humidity is equally critical: too low and the mold won't grow, too high and other microorganisms including putrefactive ones will take over. My compromise there is to first let it dry half open, when the surface is dry the paper is wrapped around tighly
Since neither fruit flies nor fresh flies tend to be any more welcome than putrefication in most households the fridge is the better place for that reason as well
I have a dearly beloved 250m roll of baking paper (long story short, my baking form for the bread is too big for regular sized paper) that I also use for cheese. However, it tends to stick when the mold gets hungry and decides the paper is as good a snack as any. Turning around and separating from the paper helps to an extent, but the better solution would probably be professional cheese storage paper. Please let me know if you have more information on this ;)
Veganer Camembert
Ich hörte seit Jahren von Menschen, die ihre eigenen veganen Käse machten. Für die Pizza und zum Kochen reichte mir Wilmersburger oder ungesüßtes Sojajoghurt, aber als Weißschimmelkäse wie Happy White bei Maran Vegan auftauchten, war ich hingerissen und angesichts des Preises und der bedingten Verfügbarkeit motiviert, selbst zur Käseproduktion zu schreiten.
Das Vorjahr stand mehr im Zeichen der Hartkäseproduktion (mit täglichen Salzbädern), mit einem ähnlichen Grundrezept aber ohne die Schimmelkultur. Da ich aus dieser Zeit noch Laibe im Kühlschrank habe, ist das derzeit keine Hauptbeschäftigung mehr. Schimmelkäse finde ich auch lustiger. Es ist auf jeden Fall abenteuerlicher, je mehr Mikroorganismen um das Substrat kämpfen ;-)
Im Prinzip beginnt das Ganze mit Okara aus der eigenen Sojamilchproduktion. Diesem wird die Milchsäurekultur zugesetzt und eventuell einen Tag ausserhalb, danach mehrere im Kühlschrank fermentiert. Vermutlich sind solche auch käuflich erwerbbar, ich habe nach Miyoko Schinners Rezept Körner gekeimt, in Wasser angegoren, abgesiehen und zur Resteverwertung die Körner im Brot verarbeitet.
Um unerwünschte Keime abzutöten, erhitze ich das Okara dann in der Mikrowelle ca. 5 Minuten. Natürlich muss es danach abkühlen, damit die Schimmelpilze nicht das selbe Schicksal erleiden.
Inzwischen werden die Cashewnüsse gerieben, am Besten mit einem Schuss Olivenöl. Dazu eignet sich eine Moulinette (Nussmühle), vermutlich auch ein Ultramixer. Die Nussmühle hat den Nachteil, dass sie nach 9 s Betrieb mindestens 2 min Pause braucht, das dauert also einige Zeit. Am Ende sollte das Produkt marzipanähnlich aussehen, die ursprünglichste Verwendung der Nussmühle wäre damit wohl geklärt (warum wird eigentlich kommerziell kein Marzipan mit Xylitol angeboten?)
Wenn das Nussmus fertig ist, wird es mit Salz und Okara vermischt und verknetet, das geht teilweise schon in der Nussmühle, vermutlich in einem Ultramixer noch besser. Dann wird ein Laib geformt und mit Weißschimmelkultur (penicillium candidum/camemberti) bestreut, besprüht oder eingerieben.
Der Käserohling wird in Papier (Käsepapier oder Backpapier) eingeschlagen und regelmäßig gewendet, am besten täglich. Dabei gibt es einige Probleme, die sich mir jedes Mal wieder stellen:
Die Reifung des Laibes ist temperaturabhängig. Ideal wären wohl 13 - 15 ° (bitte um Korrektur?), der erste Tag geht außerhalb des Kühlschranks, besonders in der warmen Jahreszeit ist die Reifung danach aber sicherer im insektengeschützten Kühlschrank
Die Luftfeuchtigkeit ist ebenso kiritisch: bei zu niedriger Luftfeuchtigkeit wächst der Schimmel nicht und es mag ein Weich- oder Hart, aber kein Schimmelkäse werden; bei zu hoher Luftfeuchtigkeit fühlt sich wieder die Fäulnis wohler. Daher reift der Käse zuerst halboffen wie im Bild, wenn die Oberfläche trocken ist wird das Papier eingeschlagen, bei Bedarf vorübergehend auch Folie oder ein Plastiksackerl verwendet
Essig- und Fleischfliegen sind in den meisten Haushalten nicht willkommen, Fäulnisbakterien ebensowenig ... auch daher empfiehlt sich eine Reifung im Kühlschrank
Ich habe eine supertolle 250m-Rolle Backpapier (meine Brotform ist zu groß für normales), die sich bedingt auch für Käse eignet. Leider frißt der Schimmel alles, und das luftig-lockere Papier kommt ihm da gerade recht. Regelmäßiges Wenden hilft nur bedingt, manchmal klebt das Papier trotzdem an und muss schlimmstenfalls heruntergeschnitten oder mitgegessen werden. Das würde vermutlich mit professionellem Käsepapier nicht passieren (bitte um Kommentare!).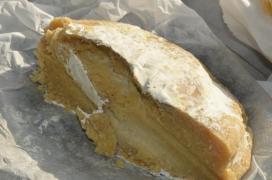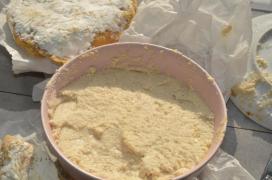 Fermentiertes Okara/fermented okara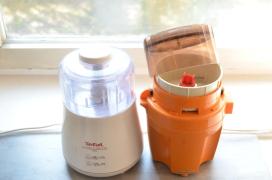 Nussmühlen (Moulinettes) verschiedener Firmen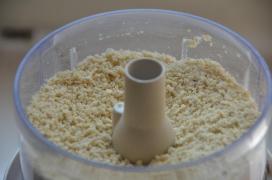 ACHTUNG: Kurzzeitbetriebsdauer bei den meisten Geräten unter 10s!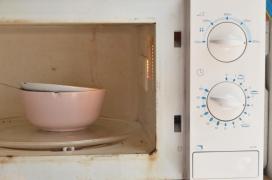 das fermentierte Okara wird noch einmal aufgekocht, um unerwwünschte Keime zu zerstören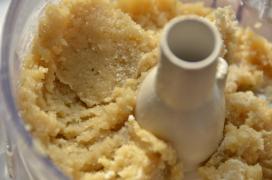 ... sollte dann wie Marzipan aussehen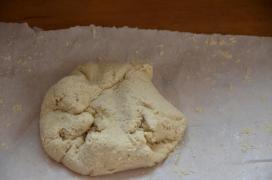 Abgekühltes fermentiertes Okara, Nussmus, Salz und Olivenöl verkneten ...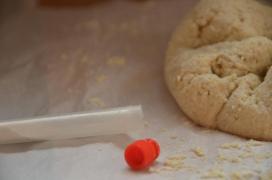 ... und mit Schimmelpilzkultur bestreuen (alternativ wird auch empfohlen, die Sporen in Flüssigkeit zu lösen und aufzusprühen, das ist mir meist zu viel Aufwand)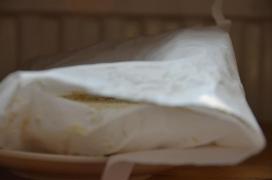 Danach wird der Laib zum Reifen gestellt - der schwierigste Teil, optimal wären wohl 13 - 15 Grad. Bei wärmeren Temperaturen fault die Mischung leicht (das hat mich einige Batches gekostet ;-)), im Kühlschrank funktioniert es, dauert aber einige Wochen. Dafür sind dort auch keine Insekten.

Auch die (Luft-)feuchtigkeit ist nicht so einfach: ganz ohne wächst der Schimmel nicht (cf. Trocknen als Konservierungsmethode), wenn es zu feucht ist auch nicht, da wachsen auch eher Fäulnisbakterien und angeflogene Sporen. Daher lasse ich das Papier anfangs offen und schlage es nach ein paar Tagen unter, wenn die Oberfläche trocken ist; wenn der Käse zu trocken wird, kommt Plastikfolie oder ein Sackerl drumherum.
===
Afterwards the cheese loaf gets to ferment with the fungus - the most difficult part both with regards temperature, humidity, and also hygiene.

From what I gather ideal fermentation temperature would be around 13 ° C. However, if the environment is too warm, putrefactive (foul) bacteria will take over, I lost a few batches that way. The fridge is a bit too cool so it takes a few weeks, but at least there are no insects.

Humidty is also critical: too little and the fungus won't grow at all, too much and other microorganisms will dominate. Therefore I usually let the loaf sit in the fridge half-open as in the picture until the skin is dry, then the paper is wrapped around completely. If it gets too dry plastic wrap or a baggie is used.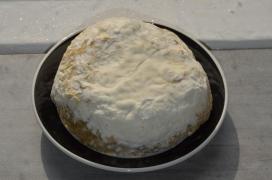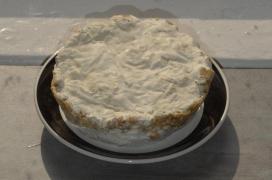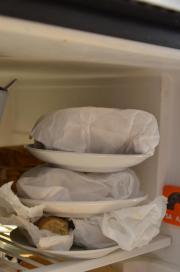 In the fridge, playing with friends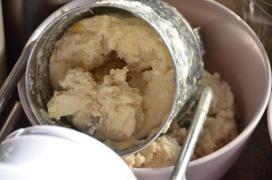 Frisches Okara vor dem Fermentieren mit Milchsäurekulturen ("Brottrunk")
===
Fresh okara, ready for fermentation with lactic acid bacteria ("rejuvelac")


---
---