aoe: Molecular Biology ... with a twist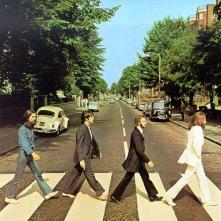 It took me over ten years to notice the similarity between the images on the biochemistry textbook and a Beatles Album (that I didn't know about at the time) ...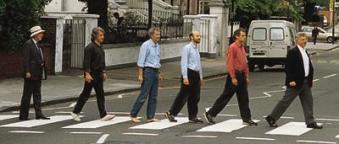 http://www.cbmh.ca/archive/00000328/01/cbmhbchm_v12n2burton.pdf

                               Figure 1
The authors of Molecular Biology ofthe Cell could not resist this takeoff
  on the 1969 Beatles albumcover. Muchof the third edition was
    writtenin a house just around the corner from Abbey Road.
        From left: James Watson, Keith Rotierts, Martin Raff,
           Julian Lewis, Dennis Bray, and Bruce Alberts.
                 (Photographby Richard Olivier, 1993.
         Reprinted with permission o Garland Publishing,Inc.)

The biographical background? Mr Lewis' and Mr McCartney's footwear, and biochemistry ...
Excuse the shabby editing, but I'm tired and I have a course at 10 am